As kids grow, their sense of adventure grows even wilder. They begin to seek activities that will satisfy their curiosity and push their limits. A scooter does the magic for most. Gone are the days when scooters used to be toy rides for toddlers. Today, teenagers are beginning to enjoy them too. But for these older kids, it's more than just a ride. They have taken the scooter to a whole new level; performing jumps and stunts. As a parent, you can support this thirst for adventure by getting them the best scooter for teenager.
Your teenagers need to be protected from harm as much as they need to satisfy their thirst for adventure. Only the best scooter brands can do both. The next task will be finding the right scooter. But if you're reading this right now, it means you can skip that part. I have gone out there to find the best scooter in the world for you. This review provides the best scooter for teenager. Several considerations were made to arrive at these products. So don't make a choice until you have read this honest review.
Which Scooter Is Best for Teenagers?
When it comes to the best scooter for teenagers, there are many different factors that contribute to your decision. There are four main things to take into account when deciding on the best scooter for teenagers: safety, reliability, cost, and personal preference.
Here are some options that are often recommended for teenagers:
1. Electric Scooters: Electric scooters are a popular choice for teenagers due to their ease of use and eco-friendly nature. They are powered by rechargeable batteries and typically have adjustable speed settings, making them suitable for various skill levels.
2. Kick Scooters: Kick scooters are lightweight and portable, making them ideal for teenagers who need to carry their scooters around. They require physical effort to propel themselves forward by kicking off the ground.
3. Pro Scooters: Pro scooters, also known as stunt or freestyle scooters, are designed for performing tricks and jumps. They feature reinforced frames, high-quality wheels, and strong handlebars, making them durable and suitable for more adventurous teenagers.
It's important to consider your teenager's skill level, intended use (commuting or recreation), and budget when choosing a scooter. Additionally, always prioritize safety by ensuring they wear protective gear such as helmets, knee pads, and elbow pads while riding.
Given below are some of the top scooters for teenagers you can buy.
Technical Specs of Best Scooter for Teenagers
| | | | | | | |
| --- | --- | --- | --- | --- | --- | --- |
| SL# | Scooter Model | Age Range | Max Rider Weight | Product Weight | Handlebar Type | Price |
| 01 | Angotrade Kick Scooter | 8+ | 220lbs (100kg) | 8.8lbs (4kg) | Adjustable | Check Price |
| 02 | Hudora 230 Adult Scooters | 8+ | 265lbs (120kg) | 11lbs (5kg) | Foldable, Adjustable | Check Price |
| 03 | Razor E300 Electric Scooter | 13+ | 220lbs (100kg) | 43lbs (19kg) | Fixed | Check Price |
| 04 | CITYGLIDE C200 Kick Scooter | 8+ | 220lbs (100kg) | 9lbs (4kg) | Foldable, Adjustable | Check Price |
| 05 | Razor E125 Electric Scooter | 8+ | 120lbs (54kg) | 25.25lbs (11.5kg) | Foldable | Check Price |
| 06 | Royal Guard II Scooter | 8+ | 220lbs (100kg) | 7.9lbs (3.58kg) | Fixed | Check Price |
| 07 | Lucky Crew Complete Pro Scooter | 8+ | 220lbs (100kg) | 7lbs (3.1kg) | Fixed | Check Price |
| 08 | Lascoota 2-in-1 kick scooter | 8+ | 220lbs (100kg) | 9.67lbs (4.38kg) | Foldable, Adjustable | Check Price |
| 09 | Albott Stunt Scooter | 8+ | 220lbs (100kg) | 8.7lbs (3.95kg) | Fixed | Check Price |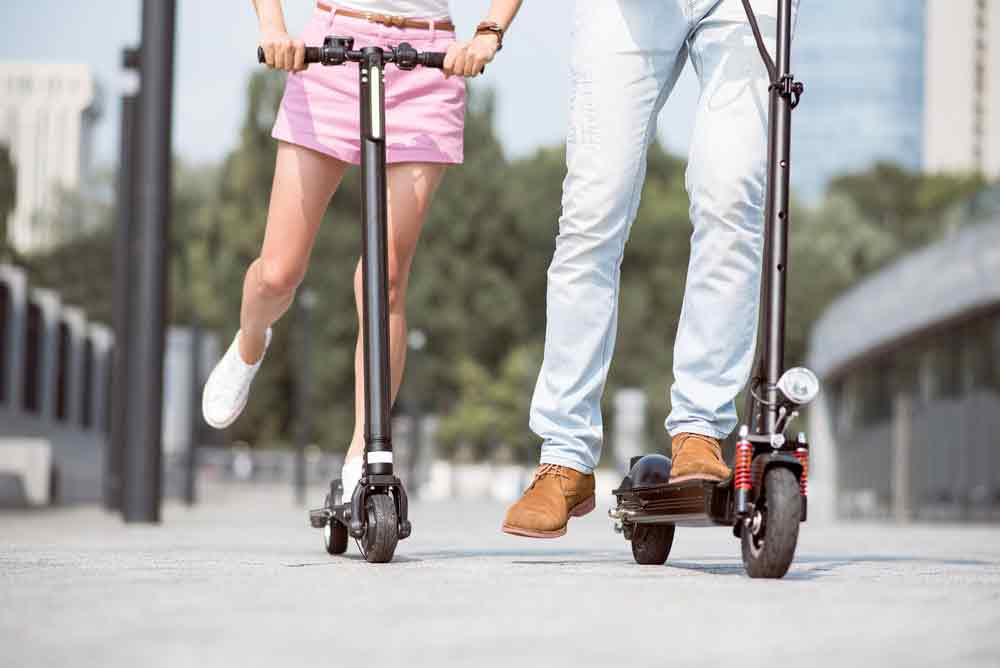 The Ultimate Guide to Buying a Best Scooter for Teenager:
1. Angotrade Kick Scooter Review
Over 2,220+ Customer Reviews and 71% 5 Star Ratings.
This is an amazing adult teen scooter that can easily be folded for portability and be adjusted to suit your height. With its aluminum alloy frame, it is capable of supporting 220 lbs. This best scooter brand has a very safe braking system, thanks to its Rear Mechanical Disc Brake (Hand Operated) with Rear Anti-Lock Braking System (ABS) that ensures a smoother stopping power.
Its folding mechanism is amazing. You can easily fold it down in three seconds. With this, storage and transportation become very easy, unlike a bicycle which requires space. Be it on a train, public bus, or even your private car, this scooter would certainly cause no restrictions in commuting. Perfect for City, Urban, and Suburban use as you enjoy an incredibly smooth ride. It has an 18-inch long deck that gives you enough foot space. Thanks to the Angotrade scooter's nonslip surface, you are assured of a firm foot grip as you scoot away with ease. Also, this scooter has an adjustable handlebar which comes with a soft rubber and comfortable hand grips. Hence it is highly recommended.
Specifications:
Frame: This scooter is built with an Aluminum Alloy Frame.
Height Adjustment: The Scooter has 3 level height adjustment mechanism with a range of 82-106 cm/32.3-41.7 inch.
Folding mechanism Possesses a 3-second easy folding mechanism.
Weight support: This Ancheer Adult Teen Kick Scooter Supports 220 LBS.
Wheels: The scooter has 8″ 205mm big wheels with front and rear shock absorbing systems.
Features a Hand Brake and Dual Suspension System.
Adjustable handlebar with soft rubber for comfortable hand grips.
Pros
This scooter is foldable, very portable with lightweight that makes commuting and storage easy for you.
Its height is adjustable to suit the user, hence suitable for adults, teens, as well as kids from age 12.
Reduced vibration due to its precision ABEC-7 bearings.
Cons
Scooter might come with loose screws that need to be retightened.
2. Hudora Big Wheel Style 230 Review
Over 430+ Customer Reviews and 80% 5 Star Ratings.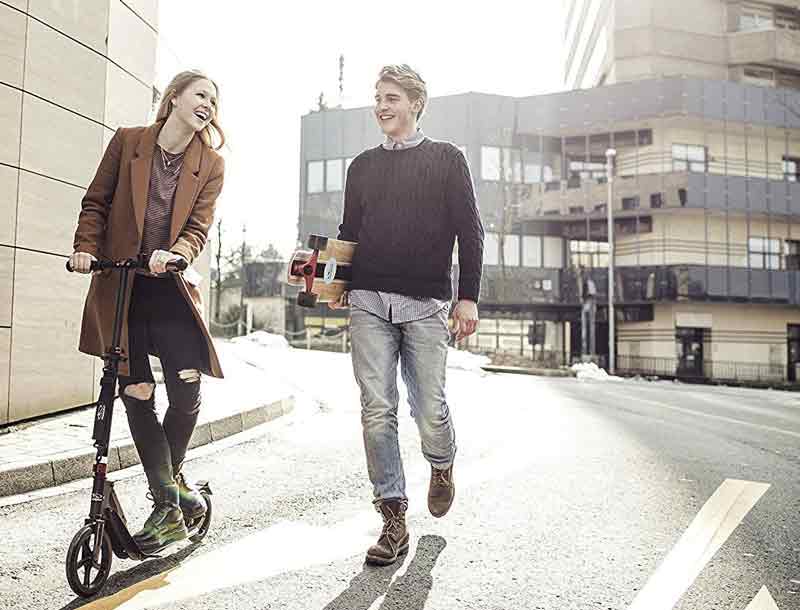 This Hudora scooter is one of the best scooters for teenagers in the world to buy. It is made of a high-quality aluminum deck coupled with reinforced wings. With its adjustable height, it is suitable for adult teens and young teens alike. The two-wheeled scooter also provides a gliding feel while riding, thanks to its extruded rear friction brake design.
Its suitability for city, and school commuting cannot be overemphasized. The wheels are made with a lightweight solid aluminum frame which is low to ground making it effortless to kick. This Hudora big wheel scooter is certified by the CE and GS government safety standards. With this certification, you can rest assured that this scooter is of high quality when it comes to environmental safety.
Specifications:
Weight: This scooter weighs 5 kg and is sized 980*500*1080mm. (Product Dimensions of 38.6 x 19.7 x 42.5 inches and 11 pounds weight).
Weight support: It also has a maximum user weight support of 264.5 lb.
Frame: It is made with a high-quality aluminum frame.
Wheels: The scooter features PU cast wheels of 230 mm diameter front and rear being 205 mm.
Deck: Also comes with a 7.7-Inch x 5.5-Inch deck
Height: This Hudora scooter has an adjustable height of 32.7 to 41.9 inch.
Speed: It also possesses precision ABEC 5 bearings which outperforms the standard ABEC 7.
Pros
Has larger wheels compared to most scooters which give a more cushioned and easy ride.
Made with a longer wheelbase making this scooter is ideal for adults.
Hudora big wheel kick scooter also comes with an attachment bracket for a water bottle.
Folds up well and fast.
Cons
The bright blue colored Hudora scooter looks more like a toy for kids compared to its black version which appears more adult-like.
3. Razor E300 Electric Scooter Review
Over 2,825+ Customer Reviews and 72% 5 Star Ratings.
This is yet another of the best electric scooter for teenagers you can find. This beautiful, gray scooter is made with high-quality materials and latest technology which gives you an electric scooter of E300. This scooter is the speediest of Razor electric scooters. With its super speed of up to 15 mph, It has the capacity to travel 15 miles per hour while having a very quiet chain driven motor.
Razor E300 electric scooter has a larger deck with frames and tires that are ideal for both teens and adult riders. With its hand operated rear brake, you can ride off safely and comfortably.
Why worry about disturbing the neighborhood or having the campus authority complain about scooter noise when you can simply go around with this silent Razor scooter.
Specifications:
Speed: Has a speed level of up to 15 mph
Deck: Razor E300 scooter also has a well-sized deck and frame, all for maximum comfort.
Tires: This scooter also has extra large 10-inch pneumatic tires.
Battery: Scooter is battery operated. It comes with two 12V sealed lead acid battery system which is rechargeable. Also corms with a battery charger.
Dimensions: When assembled, the scooter has dimensions of 41 x 17 x 42 inches and 43 x 9 x 20.5 inches when folded.
This electric scooter has high torque and is a chain driven motor. Also comes with a twist grip acceleration control.
Pros
Razor E300 electric scooter is ideal for wide range of age.
It is quiet and doesn't make noise.
It is quite durable.
Equally works well on wet roads or uneven ones.
Cons
Requires assemblage compared to some scooters that only folds down.
4. Fuzion Cityglide b200 Review
The product we reviewed is not currently available, but here is a similar product currently available.
Over 1,265+ Customer Reviews and 77% 5 Star Ratings.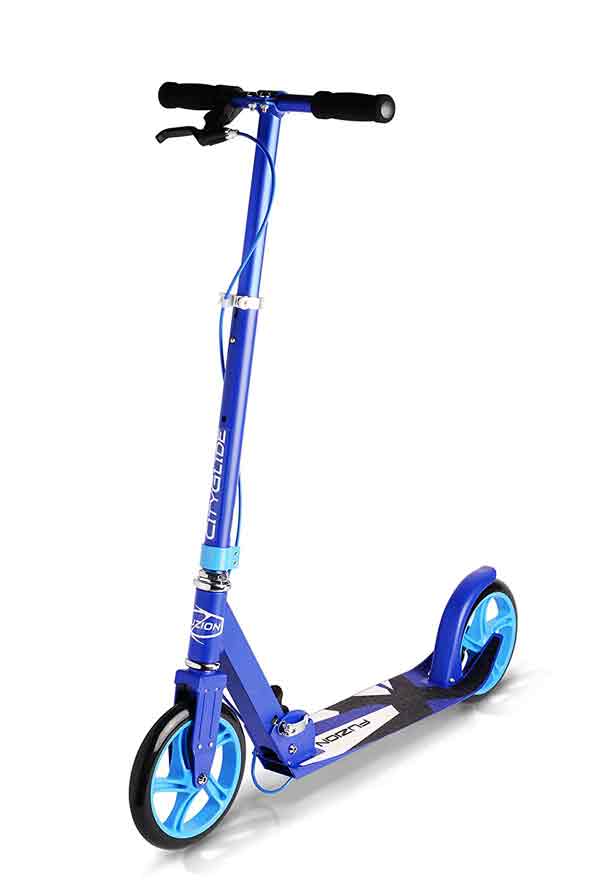 If you are in need of a scooter with a safe stopping power, high-speed wheels with yet a smooth ride, then this best scooter brand is one of the best you can get in the market. This Fuzion Cityglide scooter has easily engaged hand brakes with large rear brakes that give you more safe stopping power. With its high wheel oversized wheels, you are ensured of a smooth, gliding ride.
Think lightweight, think Fuzion Cityglide scooter. With its aluminum frame plus its quick folding and simple system, you get a light scooter that can easily be stored or commuted when need is with no hassle. Worry less about being short or tall, with its telescoping handlebars, adjust scooters height to suit your height. Get an effortless and stable kick with its low to the ground, solid aluminum frame as you ride to work, school or around town for time pass and fun. The Cityglide scooter is made of top quality materials hence you can be assured of durability and comfort. I do recommend this to you.
Specifications:
Weight support: This scooter has a weight support of up to 220 lbs.
Possesses simple and quick folding mechanism.
Wheels: Features a high speed oversized 200mm PU wheels.
Handlebars: Adjustable Handle Bars from 29 inches to 36 inches
Dimensions: Folds down to 30 x 4.9 x 13 inches and weighs 9.9 pounds
Pros
This best scooter for teenagers gives you a smooth transition on various surfaces, thanks to its larger wheels.
Folds up easily and quickly for your easy storage and transportation.
Has a low to ground aluminum frame that ensures effortless and stable kick.
Cons
Fuzion Cityglide B200 (midnight blue), unlike other models from same manufacturer, does not come with a shoulder strap.
5. Razor E125 Electric Scooter Review
Over 235+ Customer Reviews and 74% 5 Star Ratings.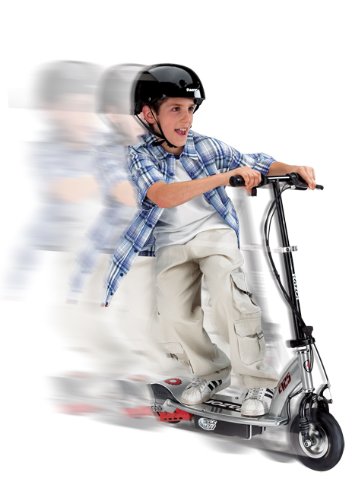 Think sleek ride, think Razor E125 Electric Scooter! This scooter has a high torque chain driven motor plus a twist-grip throttle. It speeds up to 10 mph. With this amazing electric scooter, you get a V17 Youth Sport Helmet in Glossy Black! Amazing right? To kick off, all you need is a little manual 3 miles per hour to trigger motor. Charge your razor electric scooter for 12 to 24 hours and enjoy up to 40 minutes of continuous ride time. However, this may vary depending on some factors such as climate, maintenance, and so on.
This is one of the best scooter brands you can buy. It is very suitable for children as low as 8 and can even hold a weight of up to 120 pounds! This sleek Razor scooter can speed up to 10 miles per hour, fast enough to meet up with that important hang out with friends and beat traffic. Storing and commuting just got easier. Fold the scooter's handlebars easily and fast to get a compact size for travel or storage.
Specifications:
Product Dimensions: 34.8 x 19.2 x 13.5 inches
Weight: weight is 25.2 pounds
Age limit: This scooter is ideal for children from 8 and above. It is also ideal for adult teens.
Weight support: Scooter Supports up to 120 pounds weight.
Speed: This scooter speeds up to 10 miles per hour. Gives about 40 minutes of continuous ride time.
Brake: Has a hand operated front brake.
Wheel: Has a rear wheel of 125mm polyurethane.
Battery: a Rechargeable battery that allows from 12 to 24 hours.
Pros
The electric scooter comes with a durable battery.
It also comes with a 90-day warranty.
This scooter gives a fast, smooth, safe and comfortable ride.
It also folds down well for storing and commuting
Has hand-operated front brake that allows for maximum control.
Cons
The switch is placed at the base of the scooter.
6. Royal Guard Scooter Review
Over 375+ Customer Reviews and 67% 5 Star Ratings.
This is yet another best scooter you can trust. With its amazing lightweight, your kids can have a lot of fun and do a lot of tricks with this scooter. It rides super smooth in an unbelievable way. It is also very easy to assemble scooter. What about speed you say? Buy this scooter and enjoy good speed with its fast and precise chrome steel of ABEC 5 bearings. It also has comfortable ribbed grips for your support. I must say this is the best scooter for teenagers.
With its 6061-T6 post heat treated deck and bars, be sure to get double strength from it. You can ride on for a long time and not worry about battery getting low, it has a durable battery life that charges easily. This Royal Scooters Royal Guard II Freestyle Stunt Scooter is one of the good quality and durable scooter that you can get hence I highly recommend.
Specifications:
Speed: Features fast and precise chrome steel of ABEC 5 bearings.
Has aluminum bars of w: 520mm H: 570mm with a heat treatment that doubles strength. (6061-T6 post heat treated).
Possesses an aluminum deck (6061-T6 post heat treated).
Cast wheels of high Rebound 88A PU with spoked Cores.
Scooter Dimensions: 25.4 x 4.4 x 32.2 inches.
Weight of scooter: 7.9 pounds
Pros
Rides really smooth and kids can enjoy it for the tricks it can do due to its super lightweight.
Guarantees high speed with ABEC 5 bearings.
Can be easily assembled without stress.
6061-T6 post heat treated aluminum bars and deck giving double strength.
Cons
The deck might become slightly noisy after a while.
7. Lucky PROSPECT Scooter review
Over 430+ Customer Reviews and 88% 5 Star Ratings.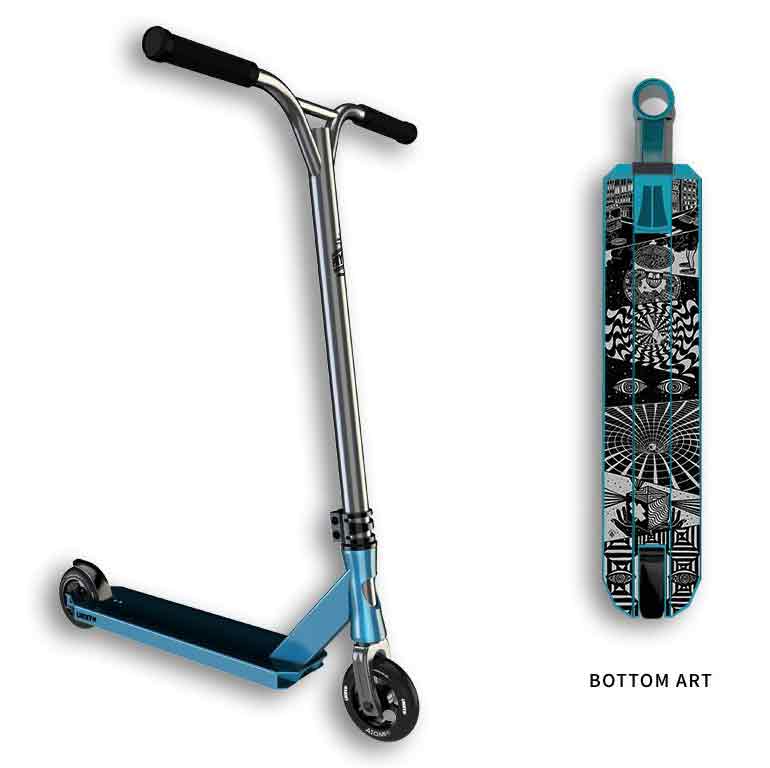 This is a best pro scooter brand for you. This scooter is of a very high standard that offers 110mm wheels. Also, it has an amazing deck that allows you have a comfortable ride while you can do all the tricks you want. This one is a very durable scooter, it is built to last long as it is made from aircraft grade aluminum. Unlike most scooters, this Lucky Scooter offers you to buy it's now and pay a 6-month equal monthly payment system with 0% interest.
This Lucky PROSPECT Complete Pro Stunt Scooter is unique for its amazing graphics. It is one of the best scooters for teenagers you can get. Its deck has a beautiful art design but not just that, it has a concave top with flat sides and bottom. This is a very sturdy scooter with a lightweight. Storage and transportation become very easy with this scooter. It is fast enough yet not too fast, safe for kids or adults alike. I recommend this Lucky pro Stunt Scooter for all the stunts you want to pull.
Specifications:
Wheels: Aluminum 110mm wheels.
Oversized King Bars: Measures 23 x 21 inches
Deck: Measures 19 x 4.25 inches.
Headtube: 82.5 degrees.
Fork: Hardened Steel Tig Welded
Product total Weight: 8.4lbs.
Frame: Made of aircraft grade aluminum.
Pros
This scooter is of high quality which ensures durability.
Features a uniquely beautiful and super comfortable deck.
Comes with a 6-month warranty!
It is a very sturdy scooter.
Cons
Wheel bearings often need frequent readjustment.
8. Lascoota 2-in-1 kick scooter review
Over 14,300+ Customer Reviews and 85% 5 Star Ratings.
This is one of the amazing adjustable lightweight kick scooters for eight years and above. Lascoota 2-in-1 kick scooter made with high-quality aluminum and steel that makes durable and stronger. This scooter accommodates the weight of up to 220 pounds. It has a comfortable rubber handle, front suspension, 205mm front and rear wheels with a reliable braking system.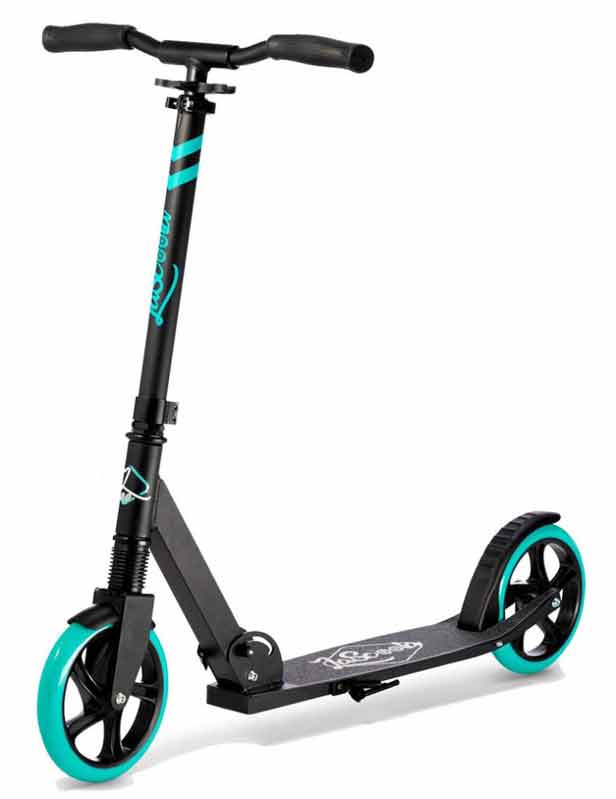 Lascoota has height adjustable (38.5/40.5/42.5 inch) handlebar features which will help you to adjust as per your child height. It's a push-up folding mechanism (with carrying strap) to help you to carry anywhere with you.
Specifications:
Product Dimensions: 39x18x42.5 inch (unfolding), 32.75×5.5×15.5 inch (folding)
Product Weight: weight is 11.06 pounds
Age limit: 8 Years and above.
Weight support: Supports up to 220 pounds.
Brake: Has a heat-treated breaking system.
Wheel: 205mm PU casted hight-rebound front and rear wheel.
Pros
Height adjustable handlebar
Comfortable specs for ridding
Easy to foldable
Comfortable rubber handle grip
Large wheels for smooth control
No assembly required
Cons
Sometimes breaks wear out fast
Quite difficult to do scooter tricks.
9. Albott Stunt Scooter Reviews
Over 620+ Customer Reviews and 75% 5 Star Ratings.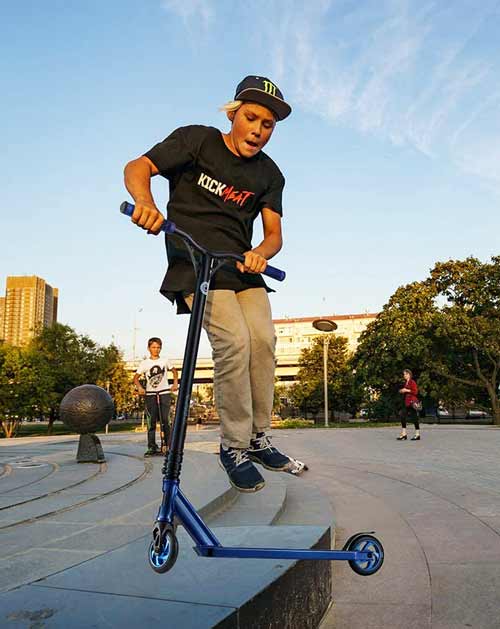 Albott Pro Stunt Scooter really stands up to its name. Purchasing the stunt scooter is a true run for your money. Made for freestyling tricks and stunts, this scooter is built with structural integrity that can carry the weight and the sharp turns. You can do a double whip on the Trick Scooter, conveniently. It is actually the ideal scooter for this kind of stunt or freestyle. This Freestyle Trick Scooter is specially made for Beginner to Intermediate riders.
Specifications:
Both the aluminum deck and aluminum bars and 6061-T6, which is post heat treated. In English, it means that the aluminum bars and decks are of high quality, very strong, and hard to break, and it needs a firm grip.
 The heavy-duty T6 aluminum 20inch length x 4.4in height deck can carry up to 220lbs
The height of the oversized carbon steel bar is 25inch height x 25inch length. This size gives you enough room to freestyle.
This scooter comes 110mm split with 88A PU surface and 5 spoke T6 grade aircraft grade aluminum wheel. This feature enables you to make sharp and fast turns.
The Scooter comes Mn steel break with TPE grips, that is both Comfortable and easy to use.
Pros
Very affordable
Easy to assemble
Comfortable grip
 Durable and sturdy
 Suitable for teens and adults alike
Cons
Sometimes the handlebars keep coming lose
How to Choose the Best Scooter for Teenager:
It is not just enough to simply go to a store or shop online for any scooter. You must be sure of certain factors before you do. Some of them include;
Weight Limit:
The weight limit of the scooter you intend to buy for your teen is a crucial factor to consider. Note that you're not buying for a toddler, and it must be weightier than the regular toddler scooter. Just ensure you look out for the one with the highest weight limit, something above 100 pounds would do. Otherwise, you could witness some damage too soon.
Material Used:
Another question you should ask is what material is used in the construction. Although the scooter should be strong and have a high weight limit, it should be lightweight as well. The best scooter brands on the market are actually made with tough aluminum alloys and steel. They are strong enough to keep you going even when they take a beating.
Durability:
Durability is key when it comes to choosing the best scooter for teenagers. It is believed that a scooter will be more durable when it is heavier. However, such weight can be a problem for your teens if they're going to be performing stunts and jumps. Just be sure you don't get something they can't handle.
Electric or Not:
The purpose for which your teen needs a scooter will often determine if you'd go for an electric scooter or not. Generally, it is best to pick an electric scooter only if your child needs it exclusively for transport. Where there's going to be high-flying tricks and some 007 stunts, I advise you go for a non-electric scooter.
Type of Wheel:
The Wheels are a major component of a scooter. The scooter should roll well, otherwise, it is going to be a frustrating ride no matter how good your teen is. Cheap, low-quality wheels are everywhere. Just be sure to look out. Rubber wheels are better because they have more traction and are more durable than most other materials out there.
Portability:
Everybody wants something they can easily move around and then keep away when not in use. This is also true about scooters. Look out for a scooter that can be easily folded up, making it easy for your child to move them wherever they want. It can also be easily tossed into your trunk or the back seat for easy transport.
Safety:
Safety should never be compromised for any reason. Apart from using a helmet and elbow and knee pads, or wearing closed-toe shoes, the scooter also has a role. The sturdiness and stability, quality of the tires, the texture of the footboard, and so on, are factors you must consider before you buy a scooter for your teenager. The best pro scooters are of the right height, have very good handles, great tires, and lovely build.
Parts of a Regular Scooter:
The most common parts of a scooter include;
Scooter Decks: The board on which the feet are placed.
Scooter Bars: The long T-shaped bar that connects the deck to the handles.
Forks: The part that connects to the bar and holds the wheel.
Clamps: Clamps are like bolts or knots that hold parts together.
Wheels: The wheels are the parts that help movement. A scooter would usually have two.
Scooter Grips: Grips are like screws that also help to keep other parts together.
Brakes: The brake is usually located at the back, just above the rear wheel. It causes the scooter to halt.
Bearings: Bearings are tiny but very important components in most machines used for locomotion. They are found very close to the wheels.
Handlebar Grips: These are simply the part of the scooter that the rider holds. They are placed are the T ends of the bar.
Benefits of Buying a Scooter:
A scooter is great for mobility. You can beat traffic easily and get to your destination on time.
In case you don't want to expel so much effort, there are electric scooters that you can use.
Your teen will definitely find it exciting playing around with a scooter.
It is a cost-saving means of transport. It doesn't require gas.
It is a good form of leisure for your teens.
Frequently Asked Questions:
Can an electric scooter go uphill?
Answer: Yes, it can. Just be sure you're not planning on engaging in wild stunts.
Should the handbrake be on the right or left handle?
Answer: It doesn't really matter where the handbrake is. Just put it wherever is convenient for you.
How do I get replacement parts for a scooter?
Answer: Depending on the product you purchase, it is best to contact the seller or the manufacturer for more precise details.
Can I use a scooter on a skate park?
Answer: Yes, you can. There is nothing that stops you from doing so, except there's a legislation of course.
What do I do if the front wheel gets stuck?
Answer: If this occurs, it is probably a problem with the bearings. Try inspecting the bearings by taking out the wheels. See if it spins properly. If there's a problem, you should get a replacement.
Conclusion:
Allow your teens break free from the boredom. Help them feel the air breeze over their ears as they ride through traffic in the summer. If you want to help your teen get into those breathtaking and unforgettable moments, you should consider getting any of these scooters. Many of the products reviewed here come with manufacturers' or seller's warranty and you can be sure you're getting quality.
Your teen can truly have the time of his life. The best scooter for teenager provides everything your older kids crave for; from durability, sturdiness, speed, and flexibility. Any of these products will do. Just make a choice based on your teen's unique needs and preferences. At the point of writing this review, these are 7 of the best scooters for teenagers you can find on the market.
If you are also searching for a kids scooter then you can read our reviews about Best Scooter for Kids here.
Recommends by Amazon